2008-05-19
星期六那一天,我的其中一个乐团参与了一个再PJ, Jaya One的打歌会。这个打歌会是我们的协助鼓手,Terry所联合主办的。

我对这次的打歌会友好坏参半的感触。先讲坏的吧。。。。

当天的音响非常的不好。混音师似乎不知道在做些什么,Hann和我都有同感。在我solo时就推另一位吉他手的音量,drum bass kick的音量忽有忽无等等状况。电吉他手们都听不到自己的声音。这对我来说非常的辛苦,因为我要听到自己在弹什么。再加上某些人在试音时很不近人情的叫混音师从我那一边的monitor关掉我的声音。(不要紧啦。。。反正不是第一次了)

接下来讲些好的东西吧。。。

非常感动看见Jrock Kingdom一个大家庭到场支持和把整个地方弄high起来。这次可以说是第一次看见这样的情景因为从JK1至3都不曾出现过这样的画面。非常佩服Drako'Zen能把场面搞到沸腾,相比之下Mage就要好好向他们学习了。

除此以外,也认识了一些新的朋友。希望下次还有更多的机会参与演出。


Last Saturday, one of my band took part in a gig at PJ, Jaya One. The gig was co-organised by our supporting drummer, Terry.

I have mixed feelings on this gig. Let's talk about the downside of the gig first...

The sound system that day was really crappy. The soundman doesn't seems to know what he's doing, Hann and I share the same opinion. When I'm soloing, he pushed up the other guitarist's volume, the drum kick voice on and off went mixing, adjust the gain fader here and there blar blar blar so on and so forth. Guitarists can't listen to their own sound. This is very hard for me because I want to listen to what I'm playing. Plus that there's this someone who inconsiderately ask the soundman to turn down my volume on the monitor from my side. wtf. (Anyhow, this is not the first time)

Let's talk about some good stuff then.

I'm very happy to see a big family from JROCK Kingdom came to support the bands and made the place heated up. To me this is the first time seeing such phenomena happening which has never occured before in previous JK gigs. Drako'Zen has my utmost respect for being able to cook up the atmostphere. Comparatively speaking, Mage has lots to learn in this aspect.

Other than that, I get to know some new friends. Hope there will be more chances to perform.


来看看一些有朋友们拍的照片。。。
Here's the pics from some friends.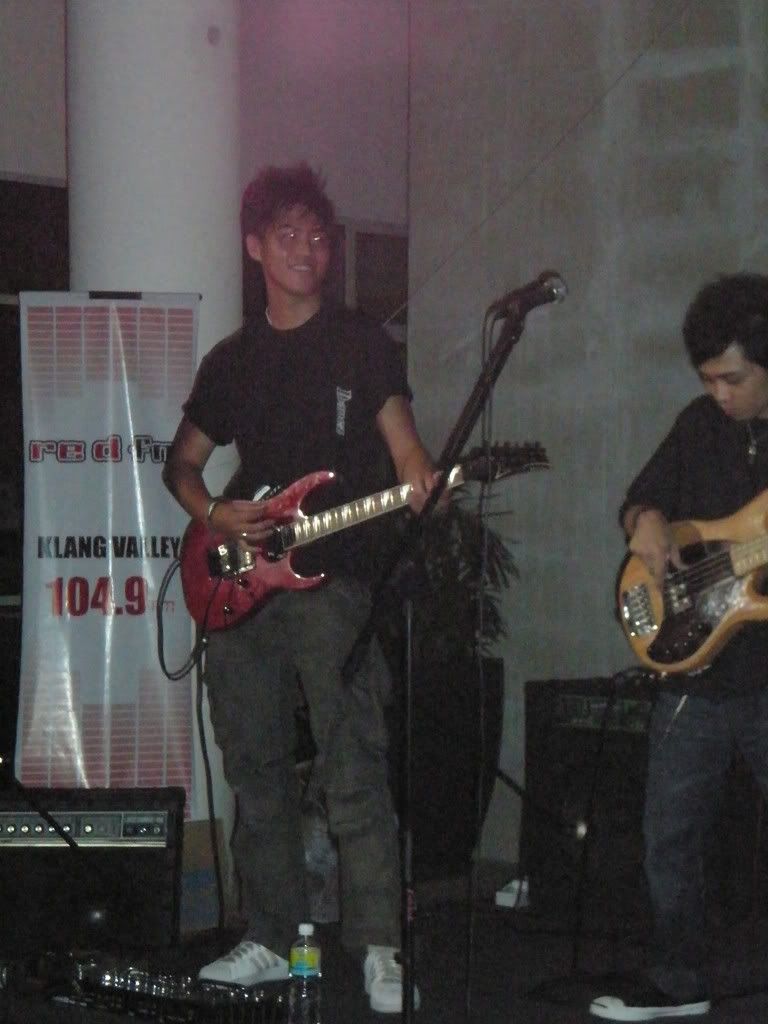 Don't mess with me.. I'm angry

More pics at http://forum.jrock-kingdom.com/viewtopic.php?t=257
1 Comment:
Яeiki said...

May 19, 2008 at 1:53 PM

 

呼呼~ 我來寫上一寫吧~
當晚玩的很開心,雖然音響爛場地也不好.
但是托著一群Jrock Kingdom支持者的福,場面變的十分熱烈.很感謝他們的支持&團結.
這是唯一令我感動的一件事.
魔術樂團很強,J'M也很強,
我們龍禪也要加油了,今後會開始創作一些能夠帶動氣氛的歌曲~~
要請前輩們多多指教~

也請你看看我的部落格:
http://reiki118.blogspot.com/
有中文,有日文,就偏偏沒有英文~
看了要留字哦!!

Яeiki